We are wandering through the world, looking for beautiful places to bring us joy
Wanderer Hotel is a different place, created exactly as we, as tourists, would like to find it. Carefully thought out, down to the smallest details. Dedicated to those who know how to enjoy the beauty of every journey.
You can find us at the base of the fortress in Sighisoara, the most beautiful inhabited fortress in Europe.
Wanderer is located in a quiet residential area surrounded by nature, just an 8-minute walk from the famous Clock Tower. Whether you will serve the meal in the restaurant, have a cocktail on the terrace or spend the night with us, you will have moments of peace and relaxation.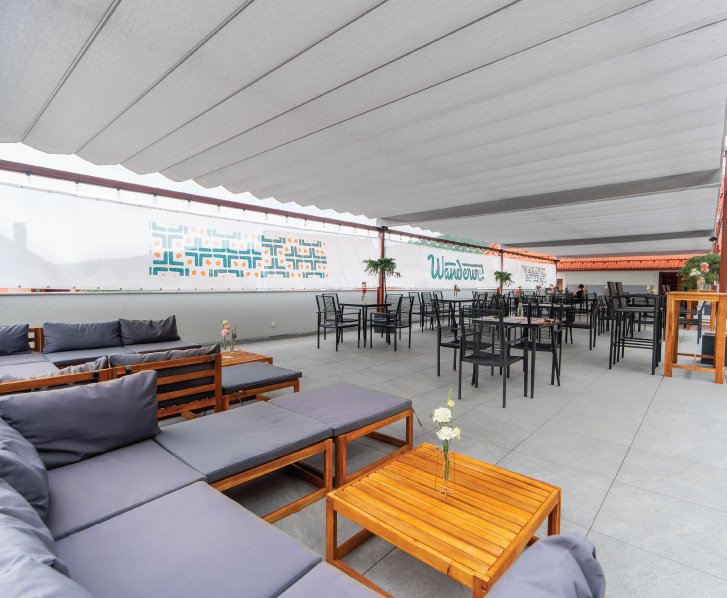 Restaurant with covered terrace
The Wanderer Restaurant and terrace await you with traditional dishes reinterpreted by Chef Robert or with a glass of wine in the evening, when you can watch the sunset from the terrace.
At Wanderer you will find rooms furnished in a style that combines the rustic with the modern, equipped with everything you need for maximum comfort.
The hotel is located at the base of Sighișoara Citadel, the most beautiful inhabited citadel in Europe. You will spend the night in a quiet residential area surrounded by nature, and in the morning you will only have an 8-minute walk to the famous Clock Tower.
"A very nicely decorated new restaurant, with superb food and a nice terrace --> great location near the castle - check it out, while it's still a somewhat hidden gem!"
Vaio Mike
Local Guide
"Very relaxing atmosfere, kind staff and good food! "
Marius Matei
Sehr nette Bedienung, tolle Atmosphäre im Lokal und auf der überdachten Dachterasse und was das wichtigste ist: phantastisches Essen! Ein echter Schäßburger Geheimtipp.
Chris Halmen